Velocity 12 RGB Video Extender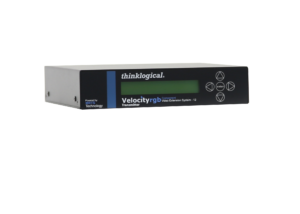 6.25G Fiber Optic RGB Component Video, Audio Extender
Supports RGB video resolutions
Supports 480p, 720p, and 1080i component video
MRTS technology 6.25 Gbps allows for full frame rate transmission of uncompressed video
Signal transmission via fiber optic cable; no RF interference
Requires one or two fiber optic cables depending on application
Flawless image quality with no frame dropping
Extends video signals up to:

750 meters using OM3+ multi-mode fiber
1000 meters using OM4+ multi-mode fiber
40 kilometers using single-mode fiber

Local RGB/component output
Audio and serial port for A/V applications
DDC2B/EDID compliant
Simple plug and play
Class 1 laser product
Available with SC-, ST-, or LC-type fiber connectors
Compatible with all Thinklogical Velocitydvi  fiber video receivers
Overview
The Velocityrgb System-12 is designed to support one RGB display, full duplex stereo audio, and serial (RS-232). Using
multi-mode or single-mode fiber, the system allows users to locate an analog monitor/projector via fiber from just a few
meters up to 40 kilometers away from the controlling computer securely without the loss of resolution. In addition to this
standout capability and performance, the Velocityrgb System-12 supports 480p, 720p, and 1080i component video.
6.25G Fiber Optic RGB Component Video, Audio Extender
Specifications
Video Resolution RGB: Up to 1600 x 1200 @ 60Hz, 1920 x 1080 @ 60Hz component video: 480p, 720p, and 1080i @ 60Hz
Supply Voltage +5.0V DC
DC Adapter AC/DC adapter universal input 90-264 VAC (supplied)
Operating Temperature 0°-50°C (32°-122°F)
Humidity 5-95% RH, Non-Condensing
Dimensions and Weights
Height: 1.19 inches (3.016 cm)
Depth: 10 inches (25.4 cm)
Width: 6.49 inches (16.5 cm)
Weight: <1 lb (0.45 kg) each
(Tolerance: ± .039 inches; .100 cm)
Shipping Weight: 4 lbs (1.81 kg) (one Velocityrgb System-12 transmitter and one Velocity receiver)
Optical Cable single-mode over one or two fibers multi-mode over one or two fibers (fiber is available, not supplied)
Optical Distance
up to 65 meters with type OM1
up to 350 meters with type OM2
up to 1000 meters with type OM4
up to 40 kilometers with type OS2 (single-mode)
Power Consumption 10 watts per unit
DC Adapter AC/DC adapter universal input 90-264 VAC (supplied)
Compliance approvals for US, Canada, and European Union
Warranty 12 months from date of shipment; extended warranties available
Resources
How To Buy
VEL-AV0M12-LCTX
Velocity 12 RGB Video Extender Transmitter, Single Link RGB, Video Component, Local Display, Local VGA Port, Serial, Audio, Multi-Mode, LC
VEL-AV0M12-SCTX
Velocity 12 RGB Video Extender Transmitter, Single Link RGB, Video Component, Local Display, Local VGA Port, Serial, Audio, Multi-Mode, SC
VEL-AV0M12-STTX
Velocity 12 RGB Video Extender Transmitter, Single Link RGB, Video Component, Local Display, Local VGA Port, Serial, Audio, Multi-Mode, ST
OPTICS OPTIONS for SINGLE-MODE
VOP-S05
Velocity 12 Optics Option for Transmitter, Single Mode, Dual Fiber, 10KM, SC/UPC or ST/UPC
VOP-S11
Velocity 12 Optics Option for Transmitter, Single Mode, Dual Fiber, 10KM, LC/UPC
VEL-AV0M12-LCTX
LCTX Velocity 12 RGB Video Extender Transmitter, Single Link RGB, Video Component, Local Display, Local VGA Port, Serial, Audio, Multi-Mode, LC
VEL-AV0M12-SCTX
Velocity 12 RGB Video Extender Transmitter, Single Link RGB, Video Component, Local Display, Local VGA Port, Serial, Audio, Multi-Mode, SC
VEL-AV0M12-STTX
Velocity 12 RGB Video Extender Transmitter, Single Link RGB, Video Component, Local Display, Local VGA Port, Serial, Audio, Multi-Mode, ST
OPTICS OPTIONS for MULTI-MODE
VOP-M01
Velocity 12 Optics Option for Transmitter, Multi-Mode, Dual Fiber, 50M or 350M or 1000M, SC or ST
VOP-M04
VOP-M04 Velocity 12 Optics Option for Transmitter, Multi-Mode, Dual Fiber, 50M or 350M or 1000M, LC
(Qty 2) CBL000016-006FR
3.5MM TO 3.5MM PLUG M/M, 6FT
(Qty 1) CBL000017-006FR
DB9M TO DB9F CABLE, 6FT
(Qty 1) CBL000020-002MR
HD15M TO HD15M CABLE, 2M