TLX22 KVM Extender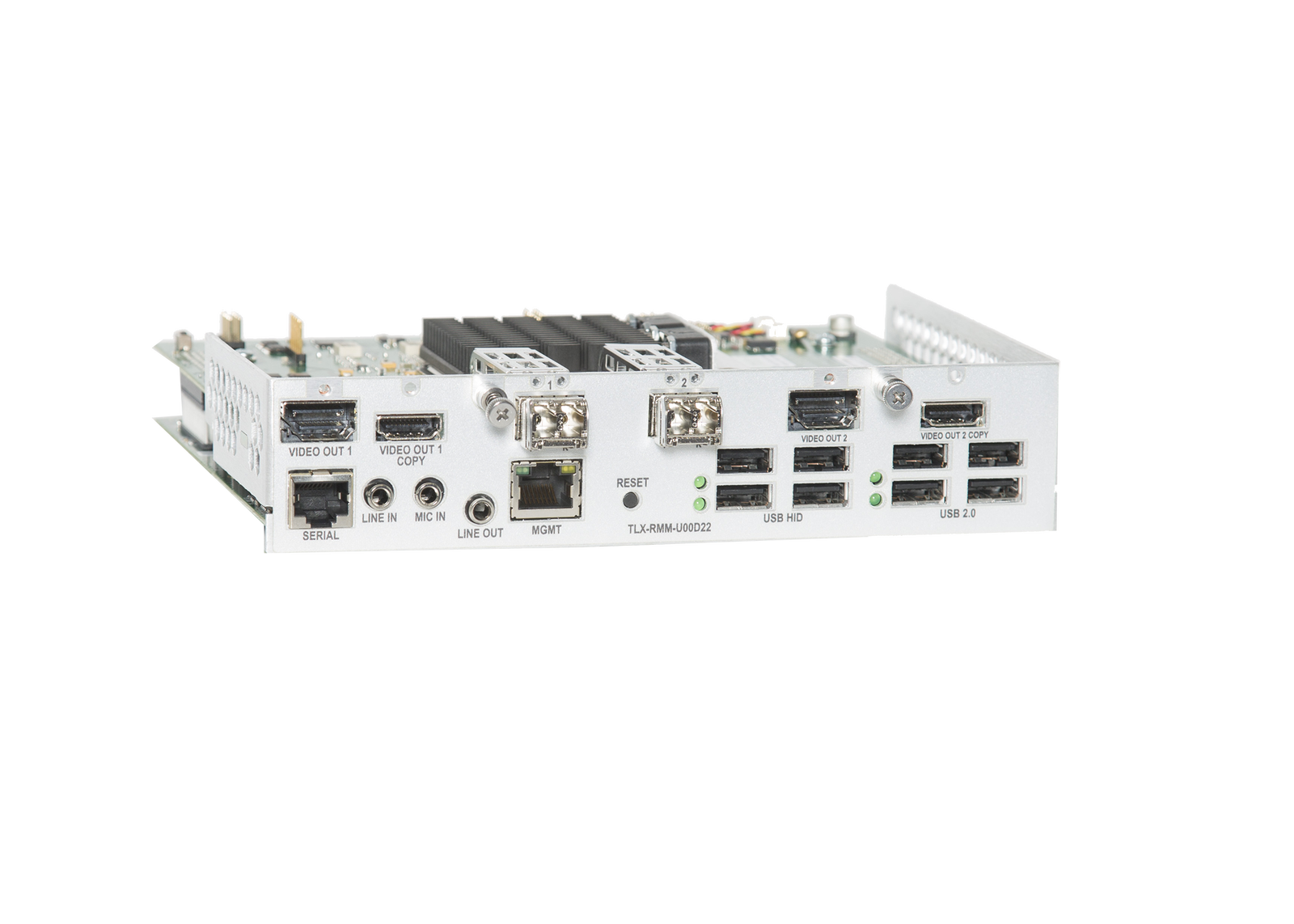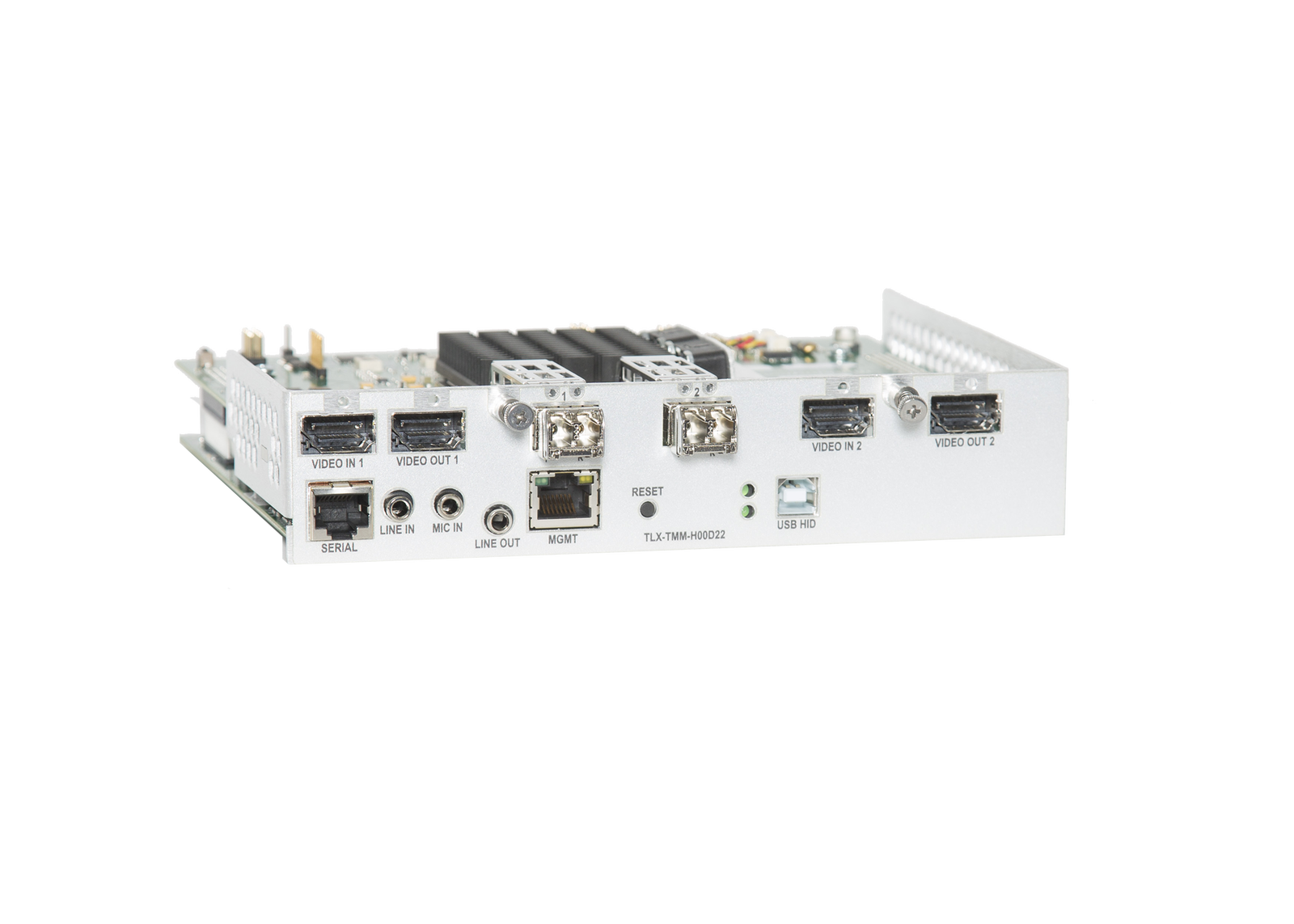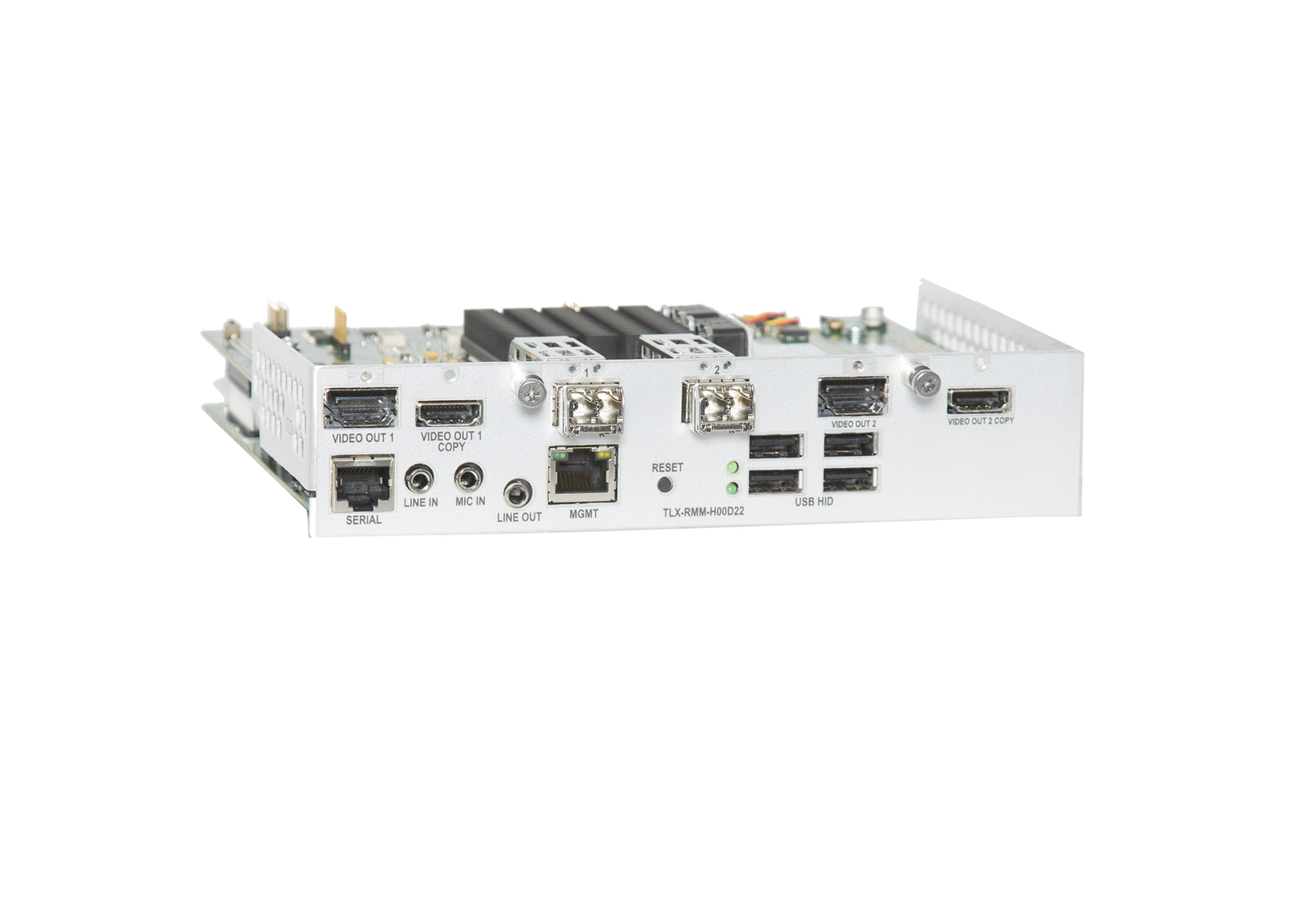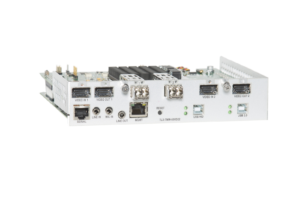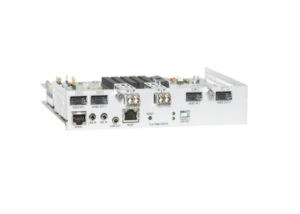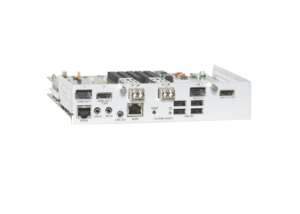 10G Fiber Optic KVM, Video, HDMI, DisplayPort, USB, Audio Extenders. TLX systems offer support for:
Video Signals 
DisplayPort 1.2 up to 4096×2160 @ 60Hz
D-Series: HDMI 1.4 up to 3840×2160 @ 30Hz
E-Series: HDMI 2.0 up to 3840×2160 @ 60Hz with HDR
Audio Signals 
Bidirectional unbalanced analog stereo audio
Embedded audio, with the ability to de-embed on the Receiver
Peripheral Signals 
DDC
Serial (RS-232)
10/100 Network
USB HID
USB 2.0 (480Mbps)
Certified to TEMPEST SDIP 27 Level B
Overview
The TLX22 extension systems are designed to support dual DisplayPort 1.2 displays up to 4096×2160 at 30Hz or dual HDMI 1.4 or 2.0 displays up to the maximum specification (3840×2160 at 30Hz), including support for HDCP content. An additional video output is provided, per input, for a local display. Extenders also support full duplex stereo audio, embedded audio (with the ability to de-embed audio at the receiver), Serial RS232, USB HID and are custom configurable to support USB 2.0 (480Mbps).
KVM Extender, Video Extender, Fiber Optic Extender, HDMI Extender, DisplayPort Extender, 4K Extender, Audio Extender, USB 2.0 Extender, USB HID Extender, 10/100 Ethernet Extender, RS-232 Serial Extender, TEMPEST Extender, DISA JITC Extender.
Specifications
Specifications
TLX Fiber Extender Modules
(TLX-TMM/RMM)
TLX CATx Extenders
(TLX-TCF/RCF)
Video Resolution
DisplayPort up to 4096×2160 @ 60Hz; 4:4:4 color depth; 10-bit color HDMI up to 4096×2160 @ 24Hz or 3840×2160 @ 30Hz; 4:4:4 color depth and 8-bit color or 4:2:2 color depth and 10-bit color
Cable
Three (3) fiber optic cables, (fiber not supplied, available for purchase)
One (1) CATx cable (CATx not supplied, available for purchase)
Distance
Multi-Mode up to 400m ∙ 33m: OM1 (62.5/125); 82m: OM2 (50/125); 300m: OM3 (50/125 SX+); 400m: OM4 (50/125eSX+) Single Mode up to 80km ∙ All Distances: OS2 (9/125)
100m: CAT6a
Optical Wavelength
Multi-Mode: 850nm; Single Mode: 1310nm (CWDM and DWDM wavelengths available, contact Thinklogical for further information)
Data Rate
Forward channel: 10Gbps; Back Channel: 10Gbps
Environmental
Operating Temperature: 0°C-50°C; Humidity: 5-95% RH, non-condensing
Compliance
Approvals for United States of America, Canada, and European Union
Warranty
One year ∙ Extended warranties available for purchase
Mounting Brackets
Brackets Included, See Modular Chassis Specifications
Surface Mounting Brackets Included
Power Consumption
20 Watts
TBD
Supply Voltage
Universal AC Power Supply, 100-240VAC, 47-63Hz
TBD
Weight
0.50lb (0.23kg)
TBD
Rack Size
See Modular Chassis Specifications
TBD
Height x Width x Depth 1
1.65" (41.91mm) x 7.41" (188.11mm) x 9.06" (230.15mm)
TBD
Tolerance
± 0.039" (1.00mm)
± 0.039" (1.00mm)
Video
TX: HDMI 1.4 (4) & DisplayPort 1.2 (4); RX: HDMI 1.4 (4) & DisplayPort 1.2 (2)
Audio MIC/LINE (Configurable)
3.5mm Jack (3)
RS-232 Serial Port (Configurable)
RJ45 (1)
USB HID
TX: USB B (1); RX: USB A (4)
N/A
USB 2.0 (Configurable)
TX: USB B (1); RX: USB A (4)
Transport Connectors
LC (2)
RJ45 (2)
Resources
How To Buy
TLX-TMM-H00D10
TLX KVM extender transmitter module; single display up to 4096x2160 @ 30Hz or dual displays up to 1920x1200 @ 60Hz with analog audio, Serial RS-232 and USB HID
TLX-RMM-H00D10
TLX KVM extender receiver module; single display up to 4096x2160 @ 30Hz or dual displays up to 1920x1200 @ 60Hz with analog audio, Serial RS-232 and USB HID
TLX-TMM-U00D10
TLX KVM extender transmitter module; single display up to 4096x2160 @ 30Hz or dual displays up to 1920x1200 @ 60Hz with analog audio, Serial RS-232, USB HID and USB 2.0
TLX-RMM-U00D10
TLX KVM extender receiver module; single display up to 4096x2160 @ 30Hz or dual displays up to 1920x1200 @ 60Hz with analog audio, Serial RS-232, USB HID and USB 2.0
TLX-TMM-H00D20
TLX KVM extender transmitter module; single display up to 4096x2160 @ 60Hz with analog audio, Serial RS-232 and USB HID
TLX-RMM-H00D20
TLX KVM extender receiver module; single display up to 4096x2160 @ 60Hz with analog audio, Serial RS-232 and USB HID
TLX-TMM-U00D20
TLX KVM extender transmitter module; single display up to 4096x2160 @ 60Hz with analog audio, Serial RS-232, USB HID and USB 2.0
TLX-RMM-U00D20
TLX KVM extender receiver module; single display up to 4096x2160 @ 60Hz with analog audio, Serial RS-232, USB HID and USB 2.0
TLX-TMM-H00D40
TLX KVM extender transmitter module; dual displays, each up to 4096x2160 @ 60Hz with analog audio, Serial RS-232 and USB HID
TLX-RMM-H00D40
TLX KVM extender receiver module; dual displays, each up to 4096x2160 @ 60Hz with analog audio, Serial RS-232 and USB HID
TLX-TMM-U00D40
TLX KVM extender transmitter module; dual displays, each up to 4096x2160 @ 60Hz with analog audio, Serial RS-232, USB HID and USB 2.0
TLX-RMM-U00D40
TLX KVM extender receiver module; dual displays, each up to 4096x2160 @ 60Hz with analog audio, Serial RS-232, USB HID and USB 2.0