TLX20 KVM Extension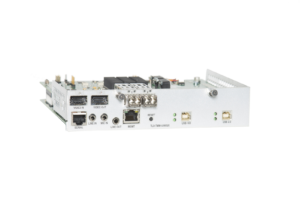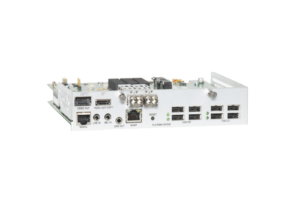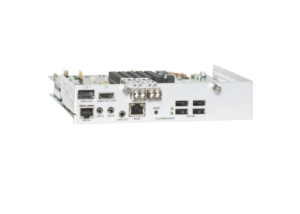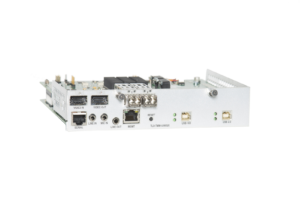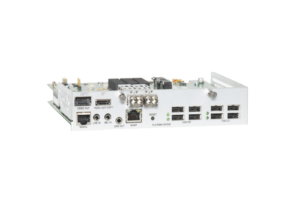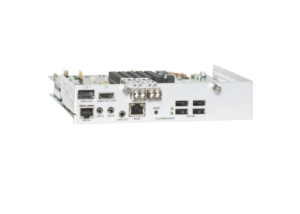 TLX systems offer support for:
Video Signals
 DisplayPort 1.2 up to 4096×2160 @ 60Hz
 HDMI 1.4 up to 3840×2160 @ 30Hz
Audio Signals
Bidirectional unbalanced analog stereo audio
Embedded audio, with the ability to de-embed on the Receiver
Peripheral Signals
DDC ∙ Serial (RS-232)
10/100/1000 Network
USB HID
USB 2.0 (480Mbps)
Overview
The TLX20 extension systems are designed to support a single DisplayPort 1.2 display up to 4096×2160 at 60Hz or a single HDMI 1.4 display to the maximum specification (3840×2160 at 30Hz), including support for HDCP content. An additional video output is provided, per input, for a local display. Extenders also support full duplex stereo audio, embedded audio (with the ability to de-embed audio at the receiver), Serial RS232, USB HID and are custom configurable to support USB 2.0 (480Mbps).
Specifications
Specifications
TLX Fiber Extender Modules
(TLX-TMM/RMM)
TLX CATx Extenders
(TLX-TCF/RCF)
Video Resolution
DisplayPort up to 4096×2160 @ 60Hz; 4:4:4 color depth; 10-bit color HDMI up to 4096×2160 @ 24Hz or 3840×2160 @ 30Hz; 4:4:4 color depth and 8-bit color or 4:2:2 color depth and 10-bit color
Cable
Three (3) fiber optic cables, (fiber not supplied, available for purchase)
One (1) CATx cable (CATx not supplied, available for purchase)
Distance
Multi-Mode up to 400m ∙ 33m: OM1 (62.5/125); 82m: OM2 (50/125); 300m: OM3 (50/125 SX+); 400m: OM4 (50/125eSX+) Single Mode up to 80km ∙ All Distances: OS2 (9/125)
100m: CAT6a
Optical Wavelength
Multi-Mode: 850nm; Single Mode: 1310nm (CWDM and DWDM wavelengths available, contact Thinklogical for further information)
Data Rate
10Gbps
Environmental
Operating Temperature: 0°C-50°C; Humidity: 5-95% RH, non-condensing
Compliance
Approvals for United States of America, Canada, and European Union
Warranty
One year ∙ Extended warranties available for purchase
Mounting Brackets
Brackets Included, See Modular Chassis Specifications
Surface Mounting Brackets Included
Power Consumption
20 Watts
30 Watts
Supply Voltage
Universal AC Power Supply, 100-240VAC, 47-63Hz
Desktop 5VDC
Weight
0.50lb (0.23kg)
1.50lb (0.68kg)
Rack Size
See Modular Chassis Specifications
Contact Thinklogical for Rackmount Solution
Height x Width x Depth 1
1.65" (41.91mm) x 7.41" (188.11mm) x 9.06" (230.15mm)
1.2" (30.50mm) x 8.86" (225.0mm) x 7.2" (182.9mm) with brackets
Tolerance
± 0.039" (1.00mm)
± 0.039" (1.00mm)
Video
TX: HDMI 1.4 (2) & DisplayPort 1.2 (2); RX: HDMI 1.4 (2) & DisplayPort 1.2 (1)
HDMI 1.4 (1) & DisplayPort 1.2 (1)
Audio MIC/LINE (Configurable)
3.5mm Jack (3)
RS-232 Serial Port (Configurable)
RJ45 (1)
USB HID
TX: USB B (1); RX: USB A (4)
N/A
USB 2.0 (Configurable)
TX: USB B (1); RX: USB A (4)
Transport Connectors
LC (2)
RJ45 (2)
Resources
How To Buy
TLX-TMM-H00D20
TLX KVM extender transmitter module; single display up to 4096x2160 @ 60Hz or dual displays up to 4096x2160 @ 30Hz with analog audio, Serial RS-232 and USB HID
TLX-RMM-H00D20
TLX KVM extender receiver module; single display up to 4096x2160 @ 60Hz or dual displays up to 4096x2160 @ 30Hz with analog audio, Serial RS-232 and USB HID
TLX-TMM-U00D20
TLX KVM extender transmitter module; single display up to 4096x2160 @ 60Hz or dual displays up to 4096x2160 @ 30Hz with analog audio, Serial RS-232, USB HID and USB 2.0
TLX-RMM-U00D20
TLX KVM extender receiver module; single display up to 4096x2160 @ 60Hz or dual displays up to 4096x2160 @ 30Hz with analog audio, Serial RS-232, USB HID and USB 2.0
TLX-TMM-K00D20
TLX KVM Transmitter Module, Single Display up to 4096x2160 @ 60Hz, Analog Audio & USB HID
TLX-RMM-K00D20
TLX KVM Receiver Module, Single Display up to 4096x2160 @ 60Hz, Analog Audio & USB HID