TLX160 Matrix Switch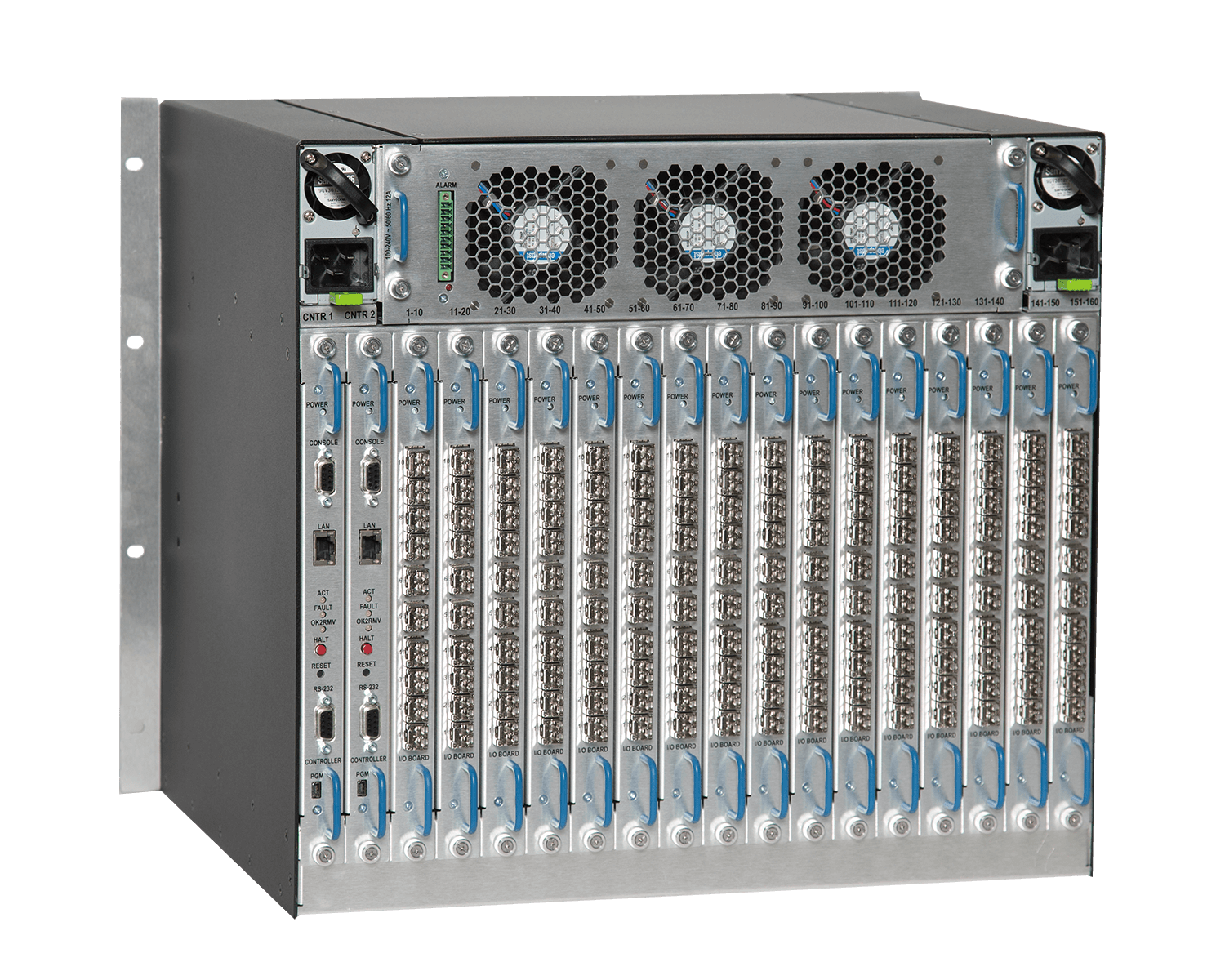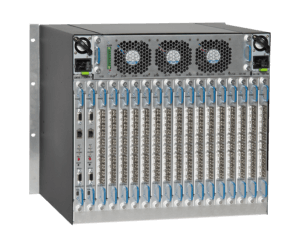 160 Port 10G KVM, Video, HDMI, DisplayPort, USB, Audio Matrix Switch
Configurable up to a 160×160 switch
Modular, 10 port data cards
10Gbps bandwidth per port
Supports video resolutions up to 4K DCI (4096×2160) 60Hz 4:4:4, 30 bits per pixel
Re-clocking technology maintains signal integrity
Protocol agnostic
Multi-mode fiber, single mode fiber and/or CATx applications
Completely non-blocking architecture
Switch video and data up to 80 kilometers
MTBF over 100,000 hours
Hot-swappable control cards, data input/output cards, power supplies, fan trays, optical modules
Optional redundant control cards, with automatic failover
Redundant, current-sharing power supplies
System Management Portfolio for complete switch control and management
Certified to Common Criteria EAL4, TEMPEST SDIP 27 Level B
Overview
TLX Matrix Switches are high performance, modular, non-blocking switches for complete, end-to-end switching of video, audio and peripheral signals over multi-mode or single mode fiber optic cable or CATx cable. TLX switches are protocol agnostic, supporting numerous video, audio and peripheral signals, allowing users to consolidate all of their system switching requirements in a single chassis.
The TLX160 is a high performance, non-blocking matrix switch for complete, end-to-end routing of video and peripheral signals. The TLX160 is scalable in increments of 10 ports, up to 160 ports, for a unidirectional 160×160 or a bidirectional 80×80 switch.
KVM Switch, Matrix Switch, Fiber Switch, Video Switch, Audio Switch, CATx Switch, 10G Switch, 4K Switch, HDMI Switch, DisplayPort Switch, SDI Switch, USB Switch, EAL4 Switch, DISA JITC Switch, TEMPEST Switch, Secure KVM.
Specifications
Optical Distance: CAT6a: 100m; Single Mode: 80km ∙ OS2 (9/125)
Multi-Mode 400m ∙ 33m: OM1; 82m: OM2; 300m: OM3; 400m: OM4
Optical Wavelength: Multi-Mode: 850nm; Single Mode: 1310nm (CWDM and DWDM
wavelengths available, contact Thinklogical for information)
Data Rate: 50Mbps to 10Gbps per port; Switching Capacity: 240Gbps
CATx Data Rate: 10Gbps per port; Switching Capacity: 1600Gbps
Environmental: Operating Temperature: 0°C-50°C
Humidity: 5-95% RH, non-condensing
Compliance: Approvals for United States of America, Canada, and EU
Warranty: One year ∙ Extended warranties available for purchase
Mounting Brackets: 19" Rack Mounting Brackets Included
Power Consumption: 1050 Watts (fully loaded)
Supply Voltage: Universal AC Power Supply, 100-240VAC, 47-63Hz
Weight: 50bs (22.68kg)
Dimensions [Tolerance ± 0.039" (1.00mm)]: Rack Size (Width): EIA 19" (482.90mm)
Height x Depth: 9RU 15.72" (399.29mm) x 14.01" (355.85mm)
Firmware Updates: Mini USB Connector (1)
RS-232 Serial Ports: DB9 Female Connectors (2)
10/100 Network: RJ45 Connector (1)
Alarm: Closed contact alarm, twelve position terminal block
Cables Included: (2) AC Power Cable & (1) CAT 5, 4.5m (CBL000001-015FR)
(20) 24" 1.0/2.3 to Female BNC Cables per Coaxial Data Card
Resources
How To Buy
TLX-MSC-000160
TLX160 Matrix Switch Chassis, Single Control Card, Redundant Power Supplies
TLX-MSD-M00010
TLX160 10 Port Multi-Mode Data Input/Output Card
TLX-MSD-S00010
TLX160 10 Port Single Mode (10km) Data Input/Output Card
TLX-MSD-C00010
TLX160 10 Port CATx Data Input/Output Card
TLX-MSM-C00160
TLX160 Control Card
TLX-MSM-P00160
TLX160 Power Supply
TLX-MSM-F00160
TLX160 Fan Tray