Thinklogical Senior Global Military Advisor Paddy McAlpine Speaks at AOC Europe 2023
May 17, 2023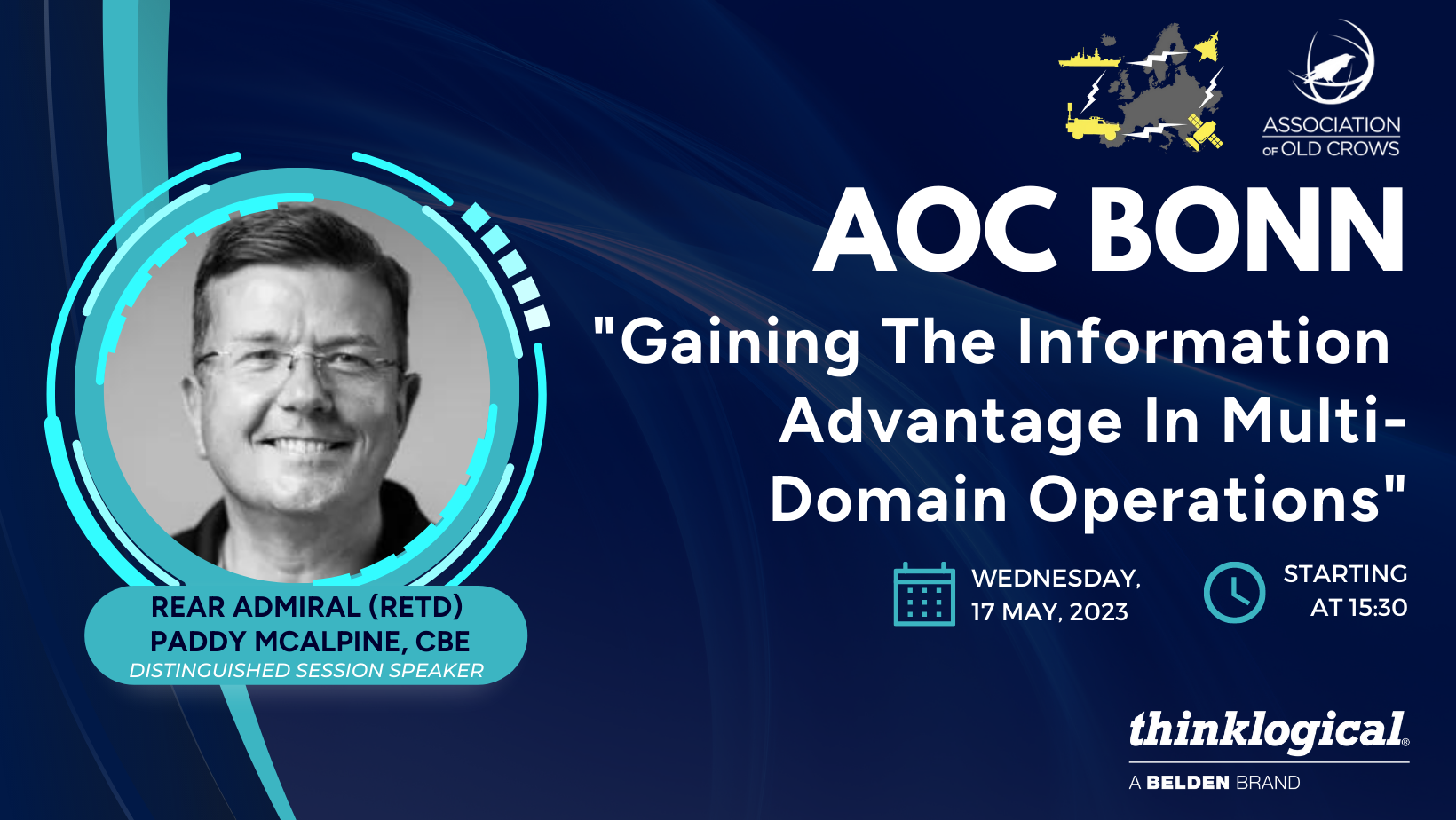 Gain an Information Advantage in Multi-Domain Operations
Thinklogical will meet with world-leading experts from the military, government, academia and industry to discuss enhancing national electronic warfare abilities
On Wednesday, May 17, Rear Admiral Paddy McAlpine, senior global military advisor for Thinklogical, a Belden Brand, will lead a discussion at AOC Europe on advanced technologies in electronic warfare and cybersecurity. The conference will be held in Bonn, Germany, on May 15-17, 2023, at World Conference Center Bonn.
While information technology and sensors proliferate across the battlespace, decision timelines continue to shorten for military leaders who want to maintain an advantage. As a result, they need to rely on advanced, highly secure, end-to-end signal management infrastructures that improve safe data access and deliver critical information when and where it's needed.
Rear Admiral McAlpine will explain to industry leaders how taking an innovative approach to technology can improve security, streamline workflows, and reduce operational complexity. Conference attendees will learn how to connect military leaders with the volume of high-quality information they need to evaluate symmetrical threats, peer and near-peer competition, dynamic battlespaces, and rapidly evolving mission requirements.
To discover how to better correlate, aggregate, process and exploit data from all domains and sources, join Rear Admiral McAlpine in Theatre 1 at 15:30 on May 17 for his session: Gain the Information Advantage in Multi-Domain Operations.
"We are thrilled to have Senior Global Military Advisor Paddy McAlpine named as a keynote speaker at AOC Europe," says Alexandra Cheever, President at Thinklogical. "His vast experience and expertise in command and control environments, coupled with Thinklogical's cutting-edge products, make him the perfect candidate to discuss how our technology creates a secure environment for military operations. We are excited for Paddy to share his insights with the AOC Europe audience and showcase how Thinklogical is at the forefront of secure information sharing in today's rapidly evolving military landscape."
Before joining Thinklogical as a senior global military advisor and UK's Joint Services Command and Staff College as a senior military mentor, Rear Admiral McAlpine served a 36-year career in the Royal Navy as a mine warfare clearance diver and surface warfare officer. Among his many achievements, he played a central role in clearing sea mines off Kuwait during the 1991 Gulf War and has commanded the Type 23 Frigate HMS SOMERSET and the Type 45 First of Class Destroyer HMS DARING.
To learn more about Thinklogical, a Belden Brand, visit www.thinklogical.com. To learn more about AOC Europe, visit www.aoceurope.org.
About Thinklogical
Thinklogical, A Belden Brand, is an innovative manufacturer of secure, high-performance video distribution (VDS) and KVM signal extension and switching systems that allow organizations to access and distribute video-rich data for increased productivity and efficiency more securely. Government, media and entertainment, and critical infrastructure organizations worldwide rely on Thinklogical products and services for high performance, security, continuous operation, and ease of integration. Thinklogical products are proudly designed and manufactured in the USA. The company is headquartered in Milford, Connecticut, USA, with offices and representatives globally. Thinklogical is a subsidiary of Belden Inc. (NYSE: BDC). For more information, visit us at www.thinklogical.com; follow us on Facebook, LinkedIn, Twitter and YouTube.
About Belden
Belden Inc. delivers the infrastructure that makes the digital journey simpler, smarter and more secure. We're moving beyond connectivity—from what we make to what we make possible through a performance-driven portfolio, forward-thinking expertise and purpose-built solutions. With a legacy of quality and reliability spanning 120-plus years, we have a strong foundation to continue building the future. We are headquartered in St. Louis and have manufacturing capabilities in North America, Europe, Asia and Africa. For more information, visit us at www.belden.com; follow us on Facebook, LinkedIn and Twitter.
Belden, the Belden logo, Belden Horizon, Hirschmann and Lumberg Automation are trademarks or registered trademarks of Belden Inc. or its affiliated companies in the United States and other jurisdictions. Belden and other parties may also have trademark rights in other terms used herein.
View source version on businesswire.com: https://www.businesswire.com/news/home/20230515005506/en/
Contacts
Jennifer Tomascak
Marketing Manager
(860) 248-0610
[email protected]