System Management Portfolio SMP 2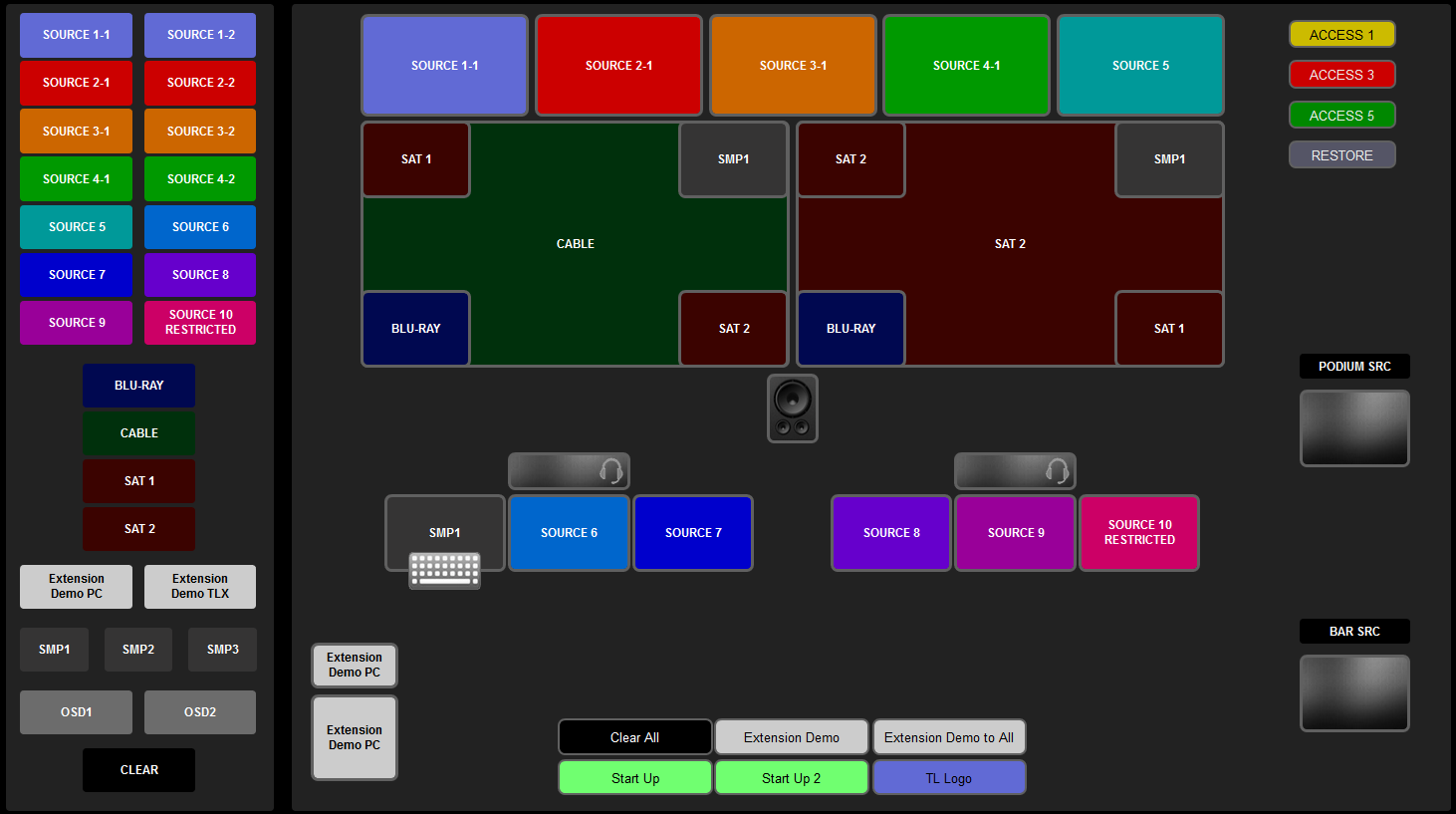 The ability of the OSD to recognize the number of connected monitors.
The ability to create Pools.
Includes Dashboard, a software package used to configure the network interfaces, manage services and to enable and manage redundancy and file synchronization.
Overview
Thinklogical's System Management Portfolio 2.0 includes a specialized software package that provides powerful remote management and maintenance capabilities, making it easier for users to configure, operate and update Thinklogical signal extension and switching systems of any size.
The intuitive graphical user interface enables fast set-up and control of each Matrix Switch (also called a Switch or Router) in the system. Tabs along the bottom of the screen allow users to navigate effortlessly through the Drag N Drop, Connection and Macros pages.
The Drag N Drop Graphical User Interface makes it easy for users to visualize their work stations onscreen and switch Sources and Destinations by simply moving an icon. As room configurations evolve over time, icons representing Sources and Destinations can be added or removed from the layout as required, making it simple to adapt to changing requirements without moving a single cable or wire.
Resources
How To Buy
SMP-A000024
SMP 6G Multi-Mode Appliance with 24 Port Software Package
SMP-A000048
SMP 6G Multi-Mode Appliance with 48 Port Software Package
SMP-A000080
SMP 6G Multi-Mode Appliance with 80 Port Software Package
SMP-A000096
SMP 6G Multi-Mode Appliance with 96 Port Software Package
SMP-A000128
SMP 6G Multi-Mode Appliance with 128 Port Software Package
SMP-A000320
SMP 6G Multi-Mode Appliance with 320 Port Software Package
SMP-A000640
SMP 6G Multi-Mode Appliance with 640 Port Software Package
SMP-A006080
SMP 6G Multi-Mode Appliance with 6080 Port Software Package
SMP-A007040
SMP 6G Multi-Mode Appliance with 7040 Port Software Package
SMP-AX00024
SMP 10G Multi-Mode Appliance with 24 Port Software Package
SMP-AX00048
SMP 10G Multi-Mode Appliance with 48 Port Software Package
SMP-AX00096
SMP-AX00096 SMP 10G Multi-Mode Appliance with 96 Port Software Package
SMP-AX00160
SMP 10G Multi-Mode Appliance with 160 Port Software Package
SMP-AX00320
SMP 10G Multi-Mode Appliance with 320 Port Software Package
SMP-AX00640
SMP 10G Multi-Mode Appliance with 640 Port Software Package
SMP-0048MNT
48 Ports: MX48, TLX48
SMP-0080MNT
80 Ports: VX40, VX80
SMP-0320MNT
320 Ports: VX160, VX320V, TLX320
SMP-0640MNT
640 Ports: VX320, VX640, TLX640