ICT Integrated Client Transmitter for Amulet Hotkey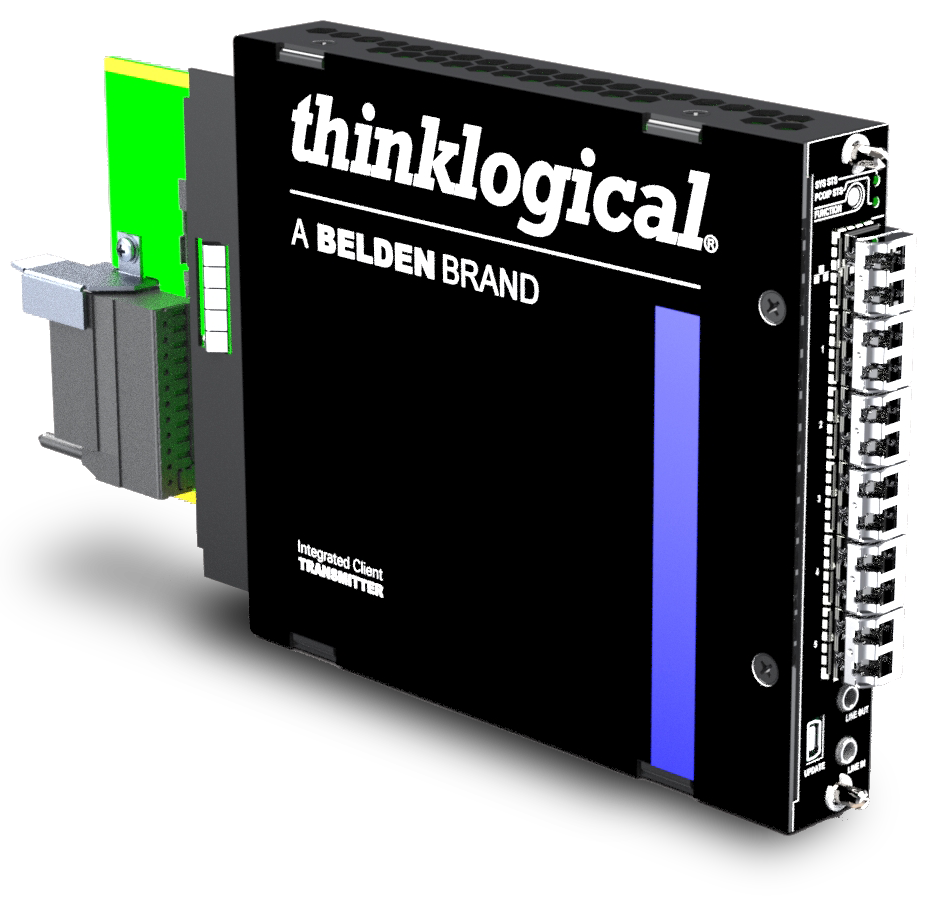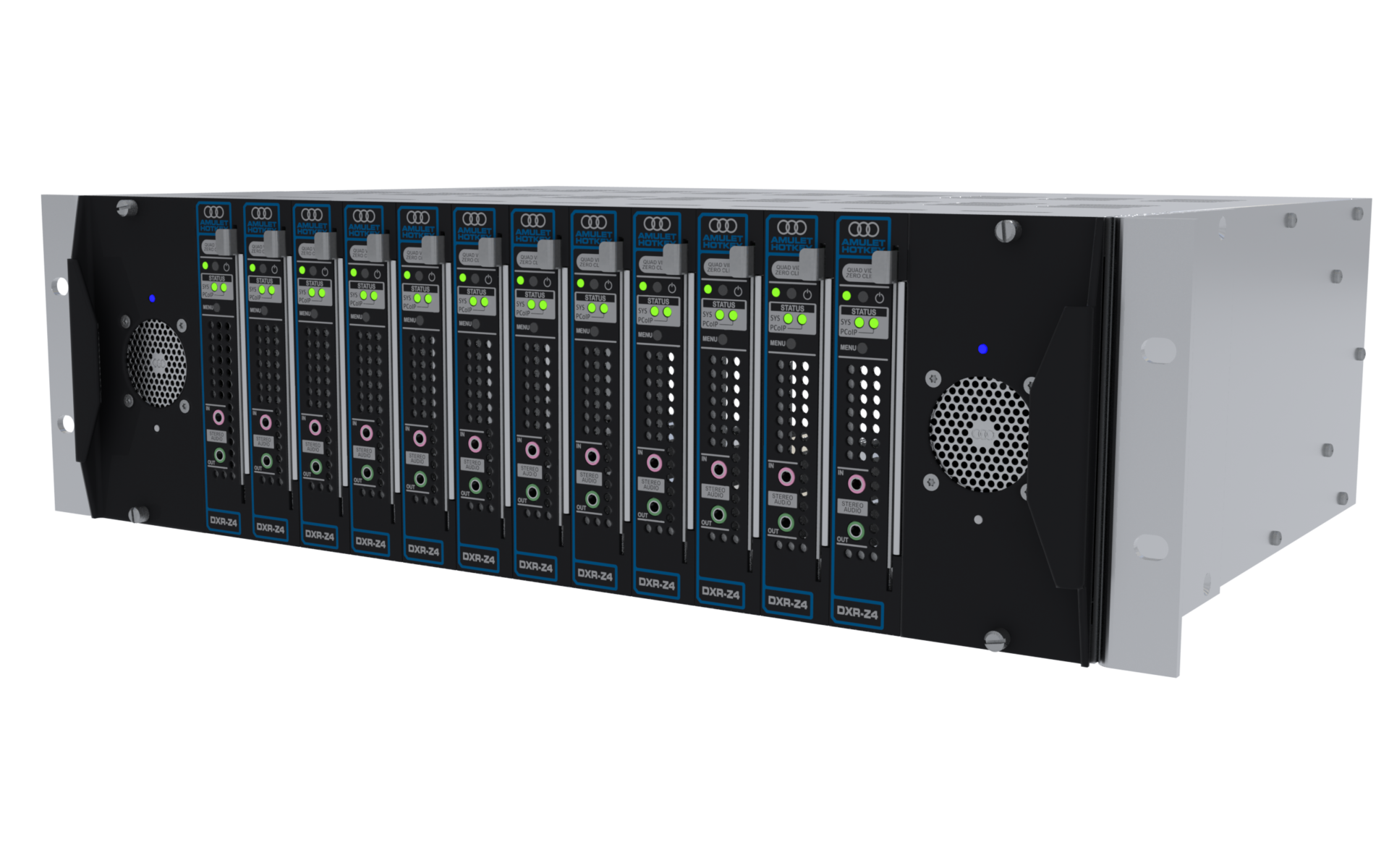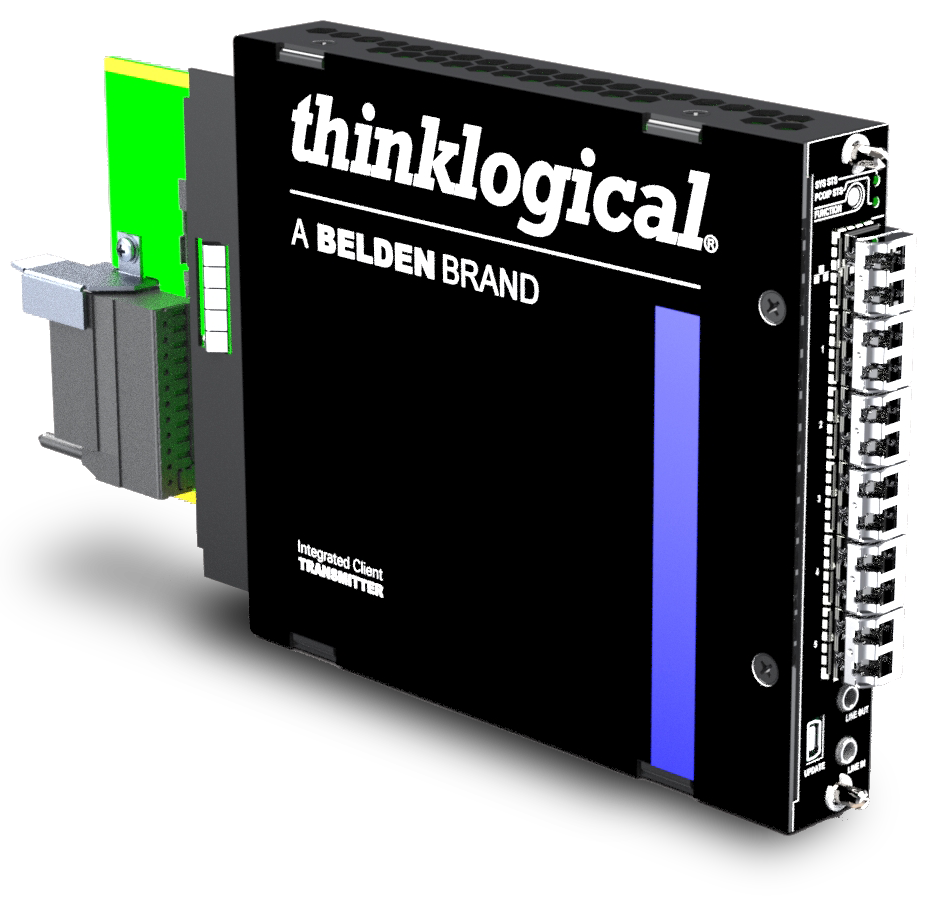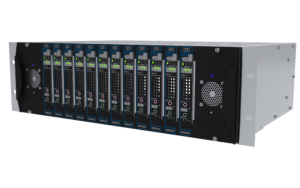 All in one, space saving rack-mountable module for PC over IP applications using the Amulet Hotkey zero client architecture.
Security: Remove the Network and USB 2.0 ports from the desk; Certified multi-domain solution
High Performance: All data is transported uncompressed, with no added latency, no video artifacts, jitter or dropped frames, and no reduction in USB 2.0 bandwidth (480Mbps)
Integration Benefits: Space savings (12 in 3RU), reduced cabling, reduced power, heat and noise
Hot-swappable transmitter module
Hot-swappable SFPs
The Thinklogical card is powered by the DXiP chassis' available redundant, hot-swappable power supplies
Separate USB 2.0 signal extension for dual factor authentication, or alternate USB 2.0 applications
Overview
Create more secure, productive and higher-performance remote computing infrastructures using Thinklogical's all-in-one rackmount Integrated Client Transmitter extender supporting the Amulet Hotkey DXR-Z4 PCoIP Zero Client.
The Thinklogical Integrated Client Transmitter for Amulet Hotkey DXR-Z4 host card is a full-featured fiber-optic KVM (keyboard, video, mouse) extender combined with the Amulet Hotkey DXR-Z4 zero client, based on the Tera2 PCoIP chipset. This unique integrated module saves rack space, reduces heat, noise, cabling and power requirement.
You can install up to 12 Integrated Client Transmitters in the Amulet Hotkey DXiP rack mounted in an IT server room and provide flexible and secure user access through Thinklogical's high-performance fiber-optic KVM extension and switching system. This reduces hardware and cabling
complexity and expense and saves a minimum of 50% of the rack space previously required in typical configurations — even more in certain applications.
Rack mounting the module with the DXR-Z4 zero client also increases data security by removing cables, and network and USB ports from the workspace. Thinklogical's patented high-bandwidth, uncompressed KVM extension and switching signal distribution architecture delivers low-latency system performance identical to if the user was connected directly to the Amulet Hotkey zero client.
Together, Amulet Hotkey and Thinklogical enable the only NATO Certified, multi-domain extension and switching solution that supports the Teradici PCoIP architecture. When deployed together users can now achieve an end-to-end Information Assurance (IA) Accredited video distribution infrastructure while benefiting from a 50-80% reduction in deployed rack space.
Simplify your remote computing infrastructure and save costs with the Integrated Client Transmitter for Amulet Hotkey from Thinklogical.
Specifications
Copper/Fiber GbE network connection from Virtual Desktop Infrastructure (VDI)
Fiber connection to Thinklogical Matrix Switch or Receiver
Thinklogical TLX & Velocity Product Line compatibility

TLX compatible modules support four video signals up to 1920×1200 or two video signals up to dual 2560×1600. The Thinklogical card supports four [email protected] signals, providing for future Amulet Hotkey client upgrades.
Velocity compatible modules support four video signals up to 1920×1200

Analog Audio (Line In/Out) Support
USB HID Compatibility
USB 2.0 Compatibility
Optional, additional fiber port to support separate USB 2.0 for CAC applications
Mini USB Update Port for configuration, status and updates
Compatible with Amulet Hotkey's DXR-Z4 Zero Client Module, product version PV 2.2.A or later
DXiP chassis requires one 500W power supply; two required for redundancy (CA-DXRK-0014)
Height: 5.2" (132.1 mm)
Depth (including connector): 9.39" (238.5  m

m)

Width: 0.99″ (25.1 mm)

Tolerance: ± .01″; (.254 mm)
Module Weight (with SFPs): 1.79 lbs. (810 g)
6 Fiber-Optic Ports (SFPs):

4 Video ports – Up to 4 heads of 1920 x 1200 for Velocity Systems

Up to 4 heads of 4K 30 or 2 heads of 4K 60 for TLX Systems

1 Dedicated USB 2.0 Port (optional)
1 Network Port configurable as Fiber or Copper

External Audio Line IN (3.5mm)
External Audio Line OUT (3.5mm)
Debug and Control (UPDATE port)
Operating Temp and Humidity: 0° to 40°C (32° to 122 °F), 5% to 95% RH, non-condensing
Power Requirements: 24VAC, 20W
Power Consumption: ~18 Watts
Compliance: Approvals for US, Canada, and European Union
Warranty: 1 Year from date of shipment.  Extended warranties available.
Resources
How To Buy
ACT-VMF-H00040
Integrated Client Velocity Multi-Mode Transmitter, Fiber Network – Quad Video, Analog Audio & USB HID
ACT-VMC-HC0050
Integrated Client Velocity Multi-Mode Transmitter, Copper Network – Quad Video, Analog Audio, USB HID & Separate USB 2.0
ACT-XMF-U00040
Integrated Client TLX Multi-Mode Transmitter, Fiber Network – Quad Video, Analog Audio, USB HID & USB 2.0
PLEASE NOTE:
Refer to datasheet for full list of part numbers for ordering.